AMT 400
Return to AMT
The AMT 400 is built to accommodate a wide array of standard and customized attachments. End users can simply remove and install attachments as a job requires, while rental operators can serve the needs of various customer applications with a single machine.
ATTACHMENTS

-
Bare Chassis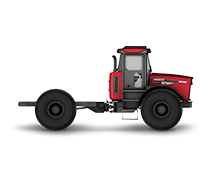 The AMT 400 is available as a bare chassis. Standard or custom attachments can be added at any time.
T-Tank
Designed for carrying up to 1,300 gallons of diesel fuel or water, the T-Tank features a flat top cargo area, integrated side storage compartments, and lockable hose/pump cabinets.
Oval Tank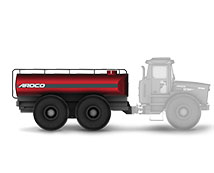 Designed for carrying up to 2,500 gallons of diesel fuel or water, the oval tank has a low center gravity and offers spray nozzles for dust control applications. (AMT 600 model shown)
Dump Bed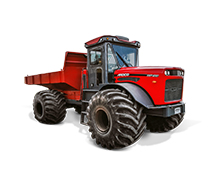 The 10-ton payload dump bed provides 8 yards of material handling capacity, or up to 12.5 yards with added sideboards. The dump bed can be raised in 12.5 seconds and lowered in 13.2 seconds.
Flat Bed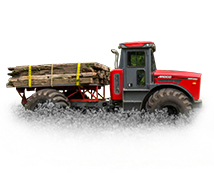 Available in 102" wide x 144" long or 120" wide x 144" long sizes, the flat bed has removable side rails and is compatible with knuckleboom cranes. Other available features include storage compartments and a double folding retractable ladder.
Personnel Carrier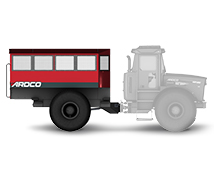 The 10-passenger, ROPS certified personnel carrier is available open or enclosed (with heat and air conditioning). The unit includes safe, slip-resistant steps and molded high back seats with safety harnesses.
Sugarcane Basket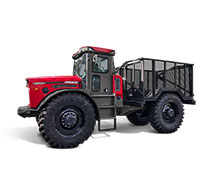 Sugarcane Planter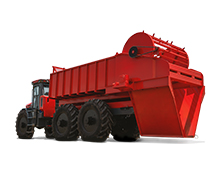 The AMT sugarcane planter allows you to utilize the same truck for planting and harvesting by simply changing attachments. (AMT 600 model shown)
Drill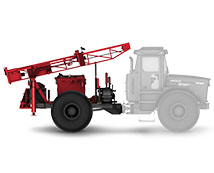 Drill up to 600 feet for geothermal, geophysical, geotechnical and water well applications.
Firefighting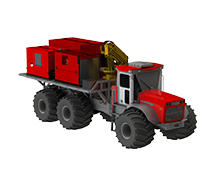 From water pumps to foam proportioning and more, the AMT can be equipped with whatever firefighting apparatus is needed for off-road emergency situations. (AMT 600 model shown)
Utility Bed
Spreader
Hi-Rail
Custom Solutions
The AMT 400 is a multi-purpose machine that can adapt to your custom ideas.
FEATURES

+
Engine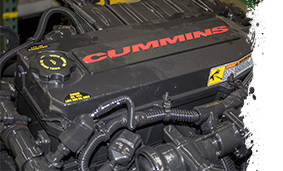 The AMT 400 is powered by a Cummins QSB6.7 Tier 4 diesel engine rated at 200-horsepower at 2,200 RPM.
Universal Attachment System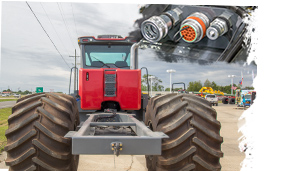 The AMT features a convenient, easy-to-use universal attachment system that is designed to accept a wide array of equipment on an open rear chassis.
Work Environment Customization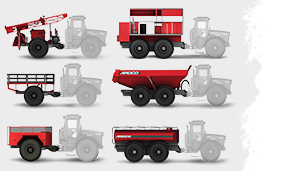 The AMT can be customized for optimal performance in its intended climate and environment, with special modifications for construction, arctic, desert, swamp, forest, railroad and mountain use.
Rugged Design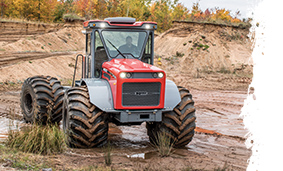 Built with a heavy-duty tubular steel frame, the AMT is designed to traverse difficult off-road terrain.
Payload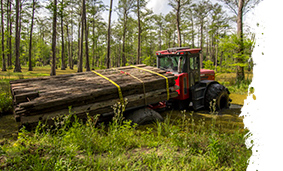 The AMT 400 delivers a high payload capacity of up to 28,000 pounds depending on attachment and application, providing impressive performance when hauling fuel, water, dirt, supplies, personnel and more.
Drive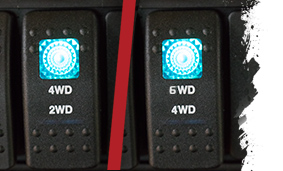 The AMT 400 is a 4-wheel-drive vehicle with front axle disconnect for 2-wheel drive mode.
Transmission and Axles
An efficient Dana 6-speed powershift transmission includes a twist grip shifter. Durable Spicer/Dana planetary axles feature automatic limited slip differentials for the front and rear.
High-Strength Trunnion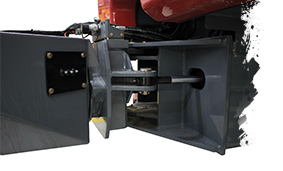 The high-strength trunnion design is engineered for smooth articulation in practically any working environment.
Wheel Wells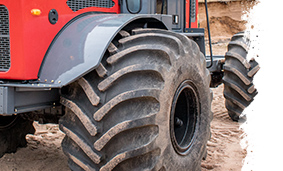 Wheel wheels block mud and sand from accumulating around the operator platform.
Tow Eyes & Hitch
The AMT includes tow eyes at the front of the vehicle and a pintle hitch on the rear.
Steel-Reinforced Hood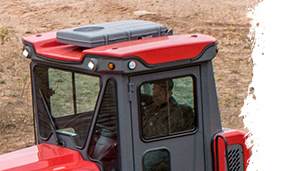 Steel-reinforced hood and roof protects operators, and the machine itself, to help safely reach their destination.
Quiet 2-Person Cab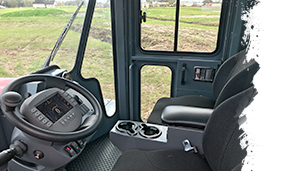 An ergonomically enhanced 2-person ROPS cab features easy-to-reach operational controls and a streamlined design for clear visibility. Fully enclosed with a 68 dB sound rating, the all-weather cab includes heating and air conditioning, Bluetooth/AM-FM audio system, front and rear wipers with washers, and interior lights.
Steering Column with Display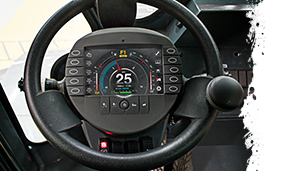 Steering column includes a 7-inch monitor featuring a digital gauge cluster with onboard diagnostics, digital maintenance log, and digital manual access. It also includes an integrated display for the optional backup camera.
Visibility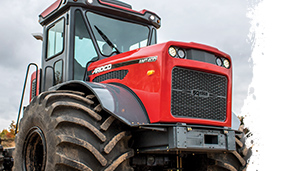 A streamlined front end angle offers panoramic visibility, enhancing safety when transporting personnel or supplies to off-road locations.
Lighting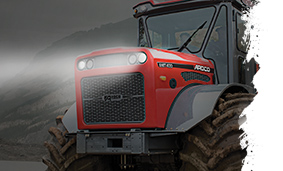 The AMT includes front LED lights with high and low beams, LED brake lights, and LED directionals. The exterior of the cab is also equipped with front and rear LED work lights, and flashing amber beacon lights.
Electrical System
Updated electrical system allows for fast and easy servicing when time is of the essence.
Fuel Tank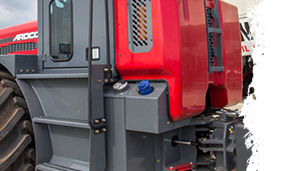 60-gallon (227 L) fuel tank capacity allows for longer operating intervals.
SPECIFICATIONS

+
DIMENSIONS
-
Height
11' 4" (345 cm)
Length
24' 6" (747 cm)
Width
8' 6" (259 cm)
Ground Clearance
24" (610 mm)
Approximate Operating Weight
22,600 lbs (10,251 kg) empty
50,600 lbs (22,952 kg) loaded
ENGINE
+
| | |
| --- | --- |
| Tier 4 Final / Stage 4 | Cummins QSB6.7 diesel engine rated at 200 BHP (149 kW) @ 2,200 RPM |
| Tier 3 (available in limited regions) | Cummins QSB6.7 diesel engine rated at 190 BHP (142 kW) @ 2,200 RPM |
| Fuel Tank | 60 gal. (227 L) |
PERFORMANCE
+
| | |
| --- | --- |
| Payload | 28,000 lbs (12,701 kg) maximum, depending on attachment, application and tires |
| Speed | 0-25 mph (40 kph) |
| Drive | 4-wheel drive with front axle disconnect for 2-wheel drive mode |
| Transmission | Dana powershift transmission with twist grip shifter; 3 speed forward, 3 reverse with high and low range |
| Axles | Spicer/Dana rigid planetary axles with automatic limited slip differentials, front and rear |
| Steering | Hydraulic articulation steering by double hydraulic cylinders with +/- 37° articulation |
| Trunnion | Extra-heavy-duty center pivot trunnion with approximately 20° oscillation between front and rear frame |
| Service Brakes | Pressure-applied hydraulic |
| Parking Brake | Internal spring-applied hydraulic release disc |
| Standard Tires | 23.1x26 tractor tires |
ELECTRICAL
+
| | |
| --- | --- |
| System | 12-volt |
| Batteries | Dual batteries with 800CCA each (1,600 CCA total) |
OPTIONS

+
Tires
Tractor, construction, terra or sand tires are available to accommodate travel on varying terrains. Other tire options available upon request.
Front End Attachments
Front push blade, hydraulically lowered and raised
Front mounted hydraulic winch with fairlead, push button operation from cab with hydraulic free spool
150' (45.7 m) AmSteel-Blue synthetic winch rope rated to 38,000 lbs + (17,237 kg)
Heavy-duty front bumper/brush guard
Auxiliary Hydraulics
24 GPM (91 LPM) @ 2,500 PSI (172 bar)
Additional capacity available for systems requiring more flow or pressure
Transmission PTO
For using full engine horsepower for driving stationary equipment such as drill hydraulic systems.
Backup Camera
Enhance visibility further with a backup camera viewable on the 7-inch display in the steering column.
Accessories
Underbody skid plate package
FOPS guard with solid steel top plate provides falling object protection and sun reflection for cooler cab
Front cab-mounted 40" (102 cm) LED light bar
Custom colors